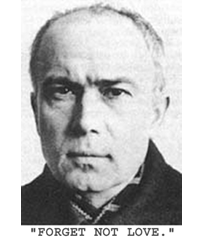 [Pictured here, Saint Kolbe, who was slain by the Nazis at Auschwitz.]
"The Freemasons follow this principle above all: 'Catholicism can be overcome not by logical argument but by corrupted morals.'And so they overwhelm the souls of men with the kind of literature and arts that will most easily destroy a sense of chaste morals, and they foster sordid lifestyles in all phases of human life..." -- Saint Maximilian Kolbe, as quoted in "Freemasonry: Mankind's Hidden Enemy," by Bro. Charles Madden, O.F.M. Conv. Saint [Not coincidentally, this Masonic strategem is similar to the ideal of the OTO, which seeks to overthrow the "sexually repressed" Christian civilization, according to Craig Heimbichner, author of the blockhead-buster book Blood On The Altar: "It [the OTO, a fringe Masonic secret society] evangalizes with the ultimate aim of destroying society's standards", (Heimbichner, Blood On the Altar, page 31)]
"The need for an organization dedicated to the Immaculata was the result of several incidents which occured in Rome in 1917. This saw the second centenary celebration of Freemasonry, and true to form they chose the Holy City of Rome as the theatre of sacriligious demonstrations. In front of the Vatican, the Freemasons paraded signs which read 'Satan must reign in the Vatican. The Pope will be his slave.' Scurilous pamphlets directed against the Holy Father were distributed among the people. Friar Maximilian, who was not yet a priest, saw this and immediately hit upon the idea of forming an association which would combat not only the Freemasons, but also protagonists of the Devil." (Fr. Jeremiah J. Smith, O.E.M. CONV., "Saint Maximillion Kolbe: Knight of the Immaculata, pages 15-16, Tan Books and Publishers, Inc.)
" After the example of Saint Francis of Assisi's taking off to convert the sultan, one day he asked his superior's permission to go to convert the grand master of the Freemasons. The Masons were making a racket around the Vatican. They had unfurled fire-red banners depicting the dragon bringing down Saint Michael, as if to announce to the papacy, already stripped of its temporal power, the impending reversal of spiritual power."
(Andre Frossard, "Forget Not Love: The Passion of Maximillion Kolbe", page 39, Ignatius Press, San Francisco, 1991)
---
Pope Leo XIII, in his celebrated encyclical
Humanum Genus
, likewise understood, as did Kolbe and many other noteworthy personages, how
Judeo-Freemasonry
aimed to overcome Christianity:
"For since generally no one is accustomed to obey crafty men so submisively as those whose soul is weakened and broken down by the domination of the passions, there have been in the secet of the Freemasons some who have plainly determined and prposed that, artfully and of set purpose, the multitude should be satiated with a boundless licence of vice, as, when this had been done, ti would easily come under their power and authority for any acts of daring."
(Popse Leo, XIII.
Humanum Genus
)
The work of Maximillion Kolbe is carried on in the United States by the Franciscans at Franciscan Marytown in Libertyvile, Illinois.
---
(Msgr. Jouin, page 24,